credits:
Arranged By [String] – Daníel Bjarnason (tracks: B2)
Banjo, Guitar [Baritone], Grand Piano, Tom Tom [Floor Tom], Mbira [Kalimba] – Davíð Þór Jónsson
Bass – Davíð Þór Jónsson, Skúli Sverrisson
Charango, Drum [Heartbeat], Viola, Violin, Piano, Timpani, Music By – Ólöf Arnalds
Choir – Helga Þóra Björgvinsdóttir* (tracks: A1), Júlía Mogenssen* (tracks: A1), Þórarinn Már Baldursson* (tracks: A1)
Cover [Album Artwork] – Asdis Sif Gunnarsdottir
Design [Graphic] – Goddur
Drums – Matthias Hemstock*
Electric Guitar – Róbert Sturla Reynisson
Guitar – Davíð Þór Jónsson, Shahzad Ismaily, Skúli Sverrisson, Ólöf Arnalds
Guitar [Low Guitar] – Shahzad Ismaily
Harmonium [Indian], Hurdy Gurdy – Kjartan Sveinsson
Horn – Sturlaugur Jón Björnsson
Liner Notes [Lyrics Translated By] – Sindri Eldon*
Lyrics By – Ragnar Kjartansson (tracks: A3), Ólöf Arnalds
Mastered By – Emily Lazar, Joe LaPorta
Mixed By – Birgir Jón Birgisson, Kjartan Sveinsson
Musician [Madrid String Quartett] – Helga Þóra Björgvinsdóttir*, Júlía Mogenssen*, Þórarinn Már Baldursson*
Producer – Davíð Þór Jónsson, Kjartan Sveinsson
Recorded By – Birgir Jón Birgisson
Resonator Guitar [Dobro], Supervised By [Artistic Supervision] – Skúli Sverrisson
Tracking By [Additional Vocal] – Damian Taylor (tracks: B3)
Voice – Davíð Þór Jónsson, María Huld Markan Sigfúsdóttir, Ragnar Kjartansson, Ólöf Arnalds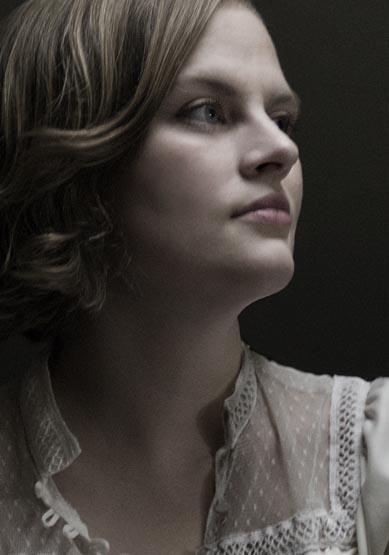 Ólöf Arnalds is an Icelandic singer and multi-instrumentalist. Classically educated on the violin, viola and self-taught on guitar and charango, Ólöf's most distinctive asset is, nonetheless, her voice. A voice of instantly captivating, spring water chasteness possessed of a magical, otherworldly quality that is simultaneously innocent yet ancient ("somewhere between a child and an old woman" according to no less an authority than Björk).
While she has been favourably compared with the likes of Vashti Bunyan, Judee Sill and Kate Bush, Ólöf's approach to making music remains highly individual: playful but intimate; accessible and uplifting, yet deeply personal and suffused with a timeless mystique that goes beyond the puckish inscrutability of her native tongue. Ólöf has also quickly proved herself as a magnetic, utterly self-assured stage performer, reliant as much on screwball humour, vaudevillian charm and even outright bawdiness, as much as the contrasting delicacy of her song delivery.
Recorded throughout 2009, Ólöf's sophomore album, Innundir skinni was produced once again at Sundlaugin by Kjartan Sveinsson and co-produced by Davíð Þór Jónsson. The album boasts more extensive instrumentation and additional players than on Við Og Við but feels effortless; the additional musicians' performances woven into the body of the songs, never overpowering them, with Ólöf's typically empyrean vocals upfront and proud. The album includes both Ólöf's first recorded songs delivered in English and her first duets - with Ragnar Kjartansson (Crazy Car) and Björk (Surrender). Featuring María Huld Markan Sigfúsdóttir vocals.