HOME PAGE UPDATE NEWS DISCOGRAPHY MAIN DISCOGRAPHY LIVE RECORDINGS SETLIST COLLECTION DVD POSTCARDS PHOTO ALBUM SHOPPING LINKS TOURDATE PRESS BOOKS JONSI AMIINA
popplagiđ.com Sigur Rós Moleskine
Notebooks made by Moleskine. Handprinted images are taken from the album 'Takk'.
Click to view
Boy and Birds

These notebooks are printed by the Toothfaeries in Alafoss, Iceland. Each notebook will be unique. A printed surprise is enclosed in each one.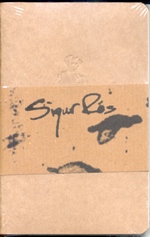 NOTE BOOK SET

A set of 3 Cahier's notebooks made by Moleskine. Sigur Rós boy, bird and tree artwork features on....
Sigur Rós:
Jón Ţór Birgisson (vocals, guitar), Georg Holm (bass),
Kjartan Sveinsson (keyboards/piano), Orri Páll Dýrason (drums)
popplagiđ.com
HOME PAGE UPDATE NEWS DISCOGRAPHY MAIN DISCOGRAPHY LIVE RECORDINGS SETLIST COLLECTION DVD POSTCARDS PHOTO ALBUM SHOPPING LINKS TOURDATE PRESS BOOKS JONSI AMIINA